Earlier this month I did 3-4 day trip in the Maze District of Canyon Lands. My uncle from Minnesota and I usually do a 1-2 longer trips a year. The Maze was pretty amazing but I think it is probably best seen and explored on foot using a 4wd vehicle to get in there as the area is huge. They say it is one of the most remote area's of the lower 48. My uncle flew in to Grand Junction picked him up in the afternoon. Stopped at the grocery store and bought all the food we would need. Gas'd up the JKU and 10 gallons of extra gas. We had 4 days worth of food and about 12 gallons of water. (One 7.5 gallon jug, and I converted the stock bumper into a water tank good for 5 gallons) The bumper now has an RV water pump that is self priming, and can be run dry and shuts off automatically at 50psi, this is connected to an RV shower head with an on off switch. This setup with 5 gallons is good for 3-4 quick but good showers.
Setup for the back of the Jeep
Finished before installing
We left Junction and headed to Green River UT and then south towards Hanksville UT. We camped North of Hanksville just outside the Goblin Valley State Park. This is a large BLM area with tons of areas you can explore in a motor vehicle. Unfortunately we arrived at night couldn't see any thing and just needed some where to camp for the night.
We woke up to a pretty amazing landscape the next morning and headed into Hanksville to top off the gas tank and grab some more ice for the cooler. While we were there we ate breakfast at Blondies. Its a dive but I swear they have best pancakes in the world.
We then headed 45 miles on dirt roads to the Hans Flat Ranger Station. Because of this limited access the Maze is the least visited national park with only about 2000 visitors a year, still you need to get a permit months in advance. Checking in was quick, I was disappointed the ranger there was not very friendly, didn't seem to want to give much information or talk about where the good things were to see. Our first camp site was panorama point only a 7 mile drive off road, but the plan was for a short day to spend time relaxing and to cook some good food. We got about .5 miles down the road and were presented with this view
We continued to panorama point, all though the landscape was different I can only describe it as top of the world with a 180 degree plus view with a campsite.
The next morning we had along day on the flint trail going from one corner of the park to the next. Our next campsite was "The Wall" the goal was to get to the doll house to do some exploring then back track to the wall to camp.
Flint Switch backs:
In the Doll House
Spanish Bottom on the Colorado River
Looking down into the actual maze. There is actually 100s of these small canyons that are connected that create the "Maze" most people Jeep in and then back pack down in these canyons for days exploring what was left behind from the natives that once occupied the area before us
The Wall
The Maze: Not a picture I took but gives you a true perspective from the air.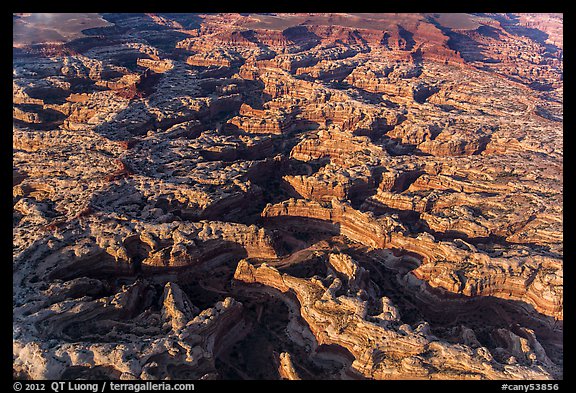 The plan the next day was to exit the Maze and head 50 miles off road towards the Hite Marina. The plan was to find a nice camp site then see Lake Powell the next day. We found a nice site right away but decided to go further, never found a nice site so we kept going and ended up at the lake. Well the lake was super low, we couldn't find it and then I looked at my GPS and saw we were actually driving on the lake bed and eventually drove to the waters edge...  The water was super low and we didn't want to drive farther south to get a a good view... I later learned the Lake was forecasted to rise 45+ feet in the following days due to the flow of the Colorado.
It got super windy and we drove back towards Hanksville it was so windy I was going about 80mph with little effort. We passed a guy on a bicycle who was going about 40mph, he was on a fully loaded pedal bike that looked like he was living out of it. We arrived at Hanksville about 40 minutes after passing the dude on the pedal bike... 10 minutes after we got to town the guy on the bike went flying through town probably going 60. the wind was that strong! That guy is lucky it was blowing on his back, we got gas and never did catch back up to the guy on the pedal bike. Since it was basically hurricane force winds we headed back early. It was still an awesome trip.
My biggest regret was not enough time. We barley scratched the surface just exploring by Jeep. We drove 180 miles from the time we left pavement to the time we got back on it in just over 2.5 days. 2nd regret, I didn't take crap for pictures, you can never take enough pictures... Need a better camera to!
The whole trip was windy, although not as bad as the last day. The Jeep top created the most comfortable camping I have ever had. We just pointed the Jeep into the wind and you couldn't even tell it was windy even though it was gusting over 40.
About a month before we left I thought about inviting others but there was just to much logistics. A month would not have given some one enough time to prepare their Jeep to live out of for up to 4-5 days as we did. Plus there is stuff you need to get a permit such as a portable toilet ect. We planned for this trip for about 5 months.
If any one is interested in an expedition style trip please let me know... We are talking about next year already and the goal is eventually an Alaskan Trip. We thought it would happen next summer but we are both running into issues getting enough time off work (About 3 weeks at least) Our alternative/realistic plan is doing the western half of the transamerican trail (Google it!) starting in Colorado and going to the pacific coast, this is if we can get out for 1-2weeks... If we can't we will probably do White Rim in Moab, or go back to the Needles District/Elephant Hill for 2-3 day trip.


Similar topics
---
Permissions in this forum:
You
cannot
reply to topics in this forum